I went to
Tate Modern
yesterday, because I figured, I could see the old masters online and it's better for me to soak up in my contemporaries and see what's up with some real art these days. And I amused myself at how excited I was to see a HUGE Monet painting, two
Jackson Pollocks
, two
Dalis
, a
Lee Krasner
.
These are definitely not the old masters, but they're dead and I have huge amounts of respect for them and they seriously made in the art world whilst alive. Pollock and Dali, specially.
And I enjoyed these paintings much more than the other more contemporary work.
Dali's paintings were pretty amazing, I don't remember their names right now
I saw this one:
And another one with a phone, that I don't remember the name of.
They were both incredible to look at, I had to make sure that I could see brush strokes and some kind of texture on the painting, because it was SO SMOOTH!! And the pieces were not big at all, I don't think either of them were bigger than 18 x 24 inches; which is super comforting for me, because I really tend to go for the smaller formats for both drawings and paintings. And him and I have that in common, the small format and the amount of detail. Man, his amount of detail, sure is remarkable!!
Something cool about him and his painting is how he was a surrealist, but he painted in a very realistic way and his human figure and figurative things came out very realistic, indeed.
I don't remember what Pollock paintings I saw. I do remember one of them, that according to the explanation, he felt he was reaching a plateau or something in his work, so he was experimenting just painting with black paint. The other one was this really long painting.
I saw part of the "Pollock" movie with Ed Harris, and he does a really good job at it and it's nice to watch.
Of Monet's, I saw this one: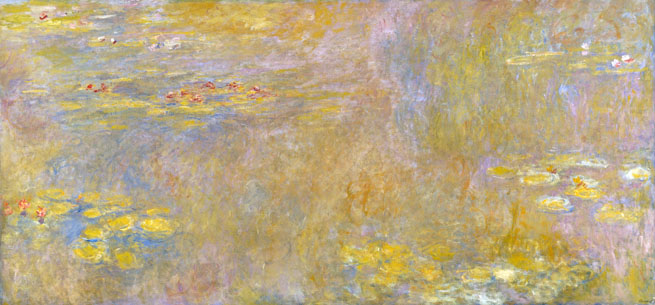 It really is a GYNORMOUS! painting. I don't remember the dimensions lol x_x
He did very many water lilly paintings, it turns out he was living somewhere where he had this pond as his view, so he'd do a lot of his light and atmosphere studies with that.
I feel pretty honoured to have seen those paintings live.
I mean, I HAVE seen paintings of the old masters in front of me before, but I guess I hadn't gotten *that* much into art myself and the famous museums get so full sometimes, it really killed my appreciation.
For example, when I went to the VanGogh museum, I would have loved to have it all to myself, so that I could get real close and then far from the paintings to look at whatever I want; because VanGogh used so much paint, it actually gave his paintings texture, but texture made of full oil paint. But there would always be a ridiculous amount of people in front of each painting.
That's all for now, I'd really like it if you'd have a looksie in my page in Facebook and liked it, I often upload pictures of what I'm doing and what I've done, you'd keep well updated with my work. Here's the link:
Gabriela Handal Arte
And also, don't hesitate to suggest it to all of your friends with the "suggest to friends" link that is under the profile picture.
Thank you so much for reading and if you're reading for the first time, DO FOLLOW! =D